We specialize in service and repair to all makes and models of wakeboard and ski boats; Mastercraft, Nautique, MB Sports, Centurion, and more.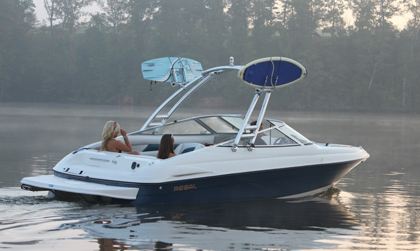 We service and repair all makes and models of boats 1990 and newer.
Mercruiser Engines
Mercruiser Sterndrives
Volvo Penta Engines
Volvo Penta Sterndrives
Mercury Outboards
Wakeboard Boats, all engine and drive types
We sell and install Monster Wakeboard Towers and stereo systems
We install fish finders and GPS systems, and other electrical accessories
MONSTER TOWERS
We sell and install all Monster Tower products.
A Monster Tower universal wakeboard tower gives you the lift and versatility you want, at a price you can afford. Our aftermarket wakeboard towers are designed to fit virtually any boat and we have a full array of universal accessories to trick them out. With industry leading 2.5″ diameter tubing on all of our towers, you can be assured that your new Monster Tower will give you solid pulls and be completely silent for years to come.
We are so confident that you will love your Monster Tower, we created the Monster Guarantee: If You Don't LOVE Your Monster Tower, We Want it Back™ It's that sort of commitment that has kept us in business and serving satisfied customers for more than a decade.